Atomic Blonde is a four piece all female rock group that blends heavy guitar riffs with emotionally charged melodies. The group was established in Nashville, TN in 2004, where they are currently based out of. Their unique sound can be classifi ed somewherein between the Hard Rock and Active Rock genres, and have had most success with airplay on Active Rock stations. Their songs are generally compared to artists such as Hoobastank, Daughtry, The Distillers and Flyleaf.
Starting out, the hard rock quartet called themselves Glass Lily. It wasnユt long before they realized that their original choice didnユt adequately describe their high-energy, guitarheavy sound. The girls toyed around with several ideas before someone suggested they somehow incorporate the word ヤatomicユ into their name. They immediately knew they were onto something. After choosing the second half of the new name, which refers to the hair color of the bandユs fi ery frontwoman, Atomic Blonde was born. As if it were the fi nal piece of the puzzle, the rechristening was just what the band needed. For the past three years Atomic Blonde has been receiving lots of attention nationwide through both electronic media as well as print. In 2005, they were winners of the Ernie Ball battle of the bands, where they were in competition with over 12,000 other bands. The group has had their picture in numerous newspapers and magazines, including the national publication, Metal Edge. They even had a song considered for Disneyユs メHerbie: Fully Loadedモ. In 2006, Rollingstone.com featured the bandユs music on their main page. They have spent weeks at the top of the myspace.com charts, reaching as high as #2, and have had over one million plays on their myspace player. By last year, Atomic Blondeユs music has been played on over 70 different radio stations, including two XM channels, and hundreds of different podcast stations. After Fox used a video clip of the band in their commercials for メThe Next Great American Bandモ, their popularity exploded around the world.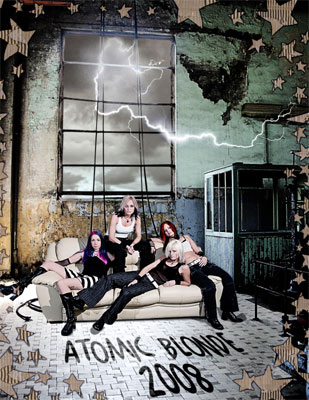 The girls had to open up an international webstore to meet the demands for Atomic Blonde music and merchandise worldwide. Since their replacement of the original guitarist in 2007, the band now consists ofVocal/Guitarist Dacia, Drummer Kendra Kayne, Bassist Danielle Day, and Lead Guitarist Fran Reed. The girls are excited to be writing songs with the solo-lead element that Fran has added, and are currently working on new material for their planned spring/summer events. The girls take exceptional pride in their live performances, receiving
numerous rave reviews and quotes like メThen came Atomic Blonde, and down came
the walls! Damn these girls ROCK!モ.

インターネットラジオ ラジオエーゲ海は、Japanインディーズサウンドはもちろんのこと、日本が大好きな世界のロックミューズ達、超レアアジアンインディーズサウンド、世界のインディーズサウンド、サイケデリック、テクノ、エレクトロ、ヒップホップ、ポップ・・
ジャンルを問わず世界のインディーズサウンドを24時間365日配信中!!

Internet Radio Radio Eigekai brings you hottest tunes from Japanese indie music scene, Rockin muses around the world, absolutely rare Asian indie sound scene, superb indie artists around the world and more and more. 24hrs 365 days. Pop, Techno, Psychedelic, Hip Hop Electro, Dance.........listen what you looking for here !
ラジオエーゲ海Topへ | Radio Eigekai Station Home
Radio Eigekai is an officially licensed station by JASRAC.